Antavius M. Weems
Managing Partner & Attorney
Continued from main profile page.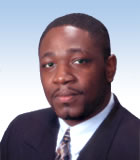 Before working with Fulton County, Antavius Weems was an attorney with the City of Atlanta, representing the City in criminal preliminary hearings and trials. Mr. Weems also served as the liaison from the City Solicitor to the State Legislature, focusing on legislation that impacts the City's legal standing in the criminal area.
Antavius is from Atlanta, Georgia, having graduated from G. W. Carver High School in Southeast Atlanta. He remains very active in his community, serving on several community boards and as the current President of his Homeowner's Association.
Mr. Weems is very active in the Georgia Bar; He has served on the Board of Directors for the Young Lawyers Division of the State Bar of Georgia, as Co-Chair of the YLD Judicial Liaison Committee of the State Bar of Georgia, Co-Chair of the Aspiring Youth Program of the State Bar, Co-Chair of the Judicial Liaison committee of the YLD/State Bar, as well as a Vice President of Gate City Bar Association, and member of the American Bar Association, National Bar Association, Alpha Phi Alpha Fraternity, Inc., Minorities in the Profession Committee of the YLD section of the State Bar of Georgia, and the Atlanta Bar Association.
Currently Mr. Weems serves as the ninth President of the Georgia Alliance of African American Attorneys, which is a statewide Bar Association for minority lawyers in Georgia. He is also Board President of Keeping My Kids, Inc, and serves on the Board of People TV Atlanta.
While a student at Michigan State University School of Law, Mr. Weems served as the President of the Wolverine Student Bar Association/Black Law Student Association. In his term as President, he was very instrumental in re-establishing the connection with African American alumni of the school after the school moved from Detroit to East Lansing, by beginning the African American Alumni reception to honor alumni of the school.
It remains one of the more popular events for the law school. Mr. Weems also spearheaded a very successful fund-raiser, dubbed "Rumble in the Jungle," wherein Law Professors competed against each other in a "moot-court" style competition that was judged by students. After his presidency, Mr. Weems went on to be elected as Vice Chair of the Midwest Region of the National Black Law Students Association, which is the largest region for the organization.
Mr. Weems graduated from Michigan State University-Detroit College of Law in June 2001, having received numerous awards, including the Wolverine Bar Association Award, the Judge Damon Keith Award from the Wolverine Bar Association and the Lansing Black Lawyers Scholarship. Antavius was also a member of the ATLA Civil Trial Advocacy Moot Court Board
Mr. Weems earned his B.A. from Clark Atlanta University in 1995 and also earned a Masters Degree in Social Work from the Whitney M. Young, Jr. School of Social work at Clark Atlanta University in 1998.
Professional & Bar Association Memberships
President, Georgia Alliance of African American Attorneys
2004-2005 Executive Board, State Bar of Georgia Young Lawyers Division
National Bar Association
American Bar Association
American Trial Lawyers Association
Recognition
One of Georgia's "Super Lawyers", 2005 Atlanta Magazine
2005 "Rising Star" Top 40 Lawyers under 40, Fulton County Daily Report